Joynagar Moya may be Patented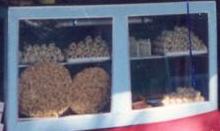 It's a must test during winters – sweet, round and quintessentially Bengali. Now, the famous Joynagar moa – a sweetmeat prepared from date plam jaggery(nalen gur) and puffed, sugary rice – could be given a geographical indication (GI) patent.
The Federation of the Association of Cottage and Small Scale Industries (Facsi) has started an awareness and sensitization programme among confectioners who make Joynagar Moa. They are being told about the nitty-gritty of intellectual property rights at a programme held in the Joynagar=Majilpur Municipality area.
Learning from the experience of Derjeeling tea, Joynagar sweet shop owners Ashok Kumar Ghosh, Muktaram Ghosh and Tarun Purkait have started dreaming of a brighter future. Sri Krishna Mistanna Bhandar is the oldest moa shop in Joynagar. Owner Ashok Kumar Ghosh felt GI would be a big boost for the poor sweet shop owners keeping alive Bengal's legacy. "Our shop was established in 1929 by my father. Earlier, babus from Kolkata would order huge quantities of moa during Poush Sankranti. Our moa has even been sent to USA. But fake products are being made all over the state, putting our identity at stake," he said.


Ghosh attended the awareness programme conducted by Facsi and the patent office. "There are over 150 sweet shops in Joynagar, Baharu and Charan, which make delicacy. We shall sit and discuss the issue of the GI patent," he added.
Ghosh pointed out that Joynagarer moa is made of a special brand of aromatic rice called Kanakchur and nalen gur, which can not be made elsewhere.
Facsi president Sukhendu Bikash Ghosh said the organization is trying to act as a facilitator for a GI patent for Joynagar moa. "The confectioners have set up an association. A GI patent is only given to associations. We have got a mandate from the department of MSMe of the Union government to facilitate a GI patent for ethnic products," he said.